Confidentiality and Service User Policies
Please note that all of Women's Aid frontline services operate under the Children First National Guidance for the Protection and Welfare of Children 2017. 
Read all of the relevant service user policies below.
Helplines Partnership UK Accreditation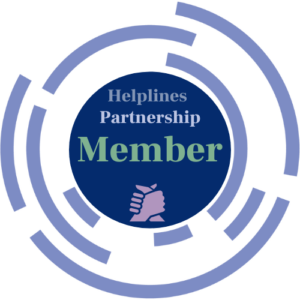 Women's Aid National Freephone Helpline is accredited to The Helplines Partnership Quality Standard which defines and accredits best practice in helpline work.  Women's Aid's current accreditation was granted on 22nd November 2021 and will run to 22nd November 2024.
Our Helpline standards
Women's Aid aims to respond to all calls in a non-judgmental way
Women's Aid aims to respond to 70% of calls received within 20 seconds during opening hours
Women's Aid aims to respond to requests for interpreters within 3 minutes
Women's Aid aims to respond to all emails within 3 working days
For more information on this process, visit the Helplines Partnership website.
Feedback
Have you used the Women's Aid 24hr National Freephone Helpline? If so, your feedback is important.  You can fill in a short survey to help us improve the service for those who call, email or message us in the future. All answers are anonymous and confidential.