Women's Aid and Maternity Hospitals Team Up to Tackle Domestic Abuse During Pregnancy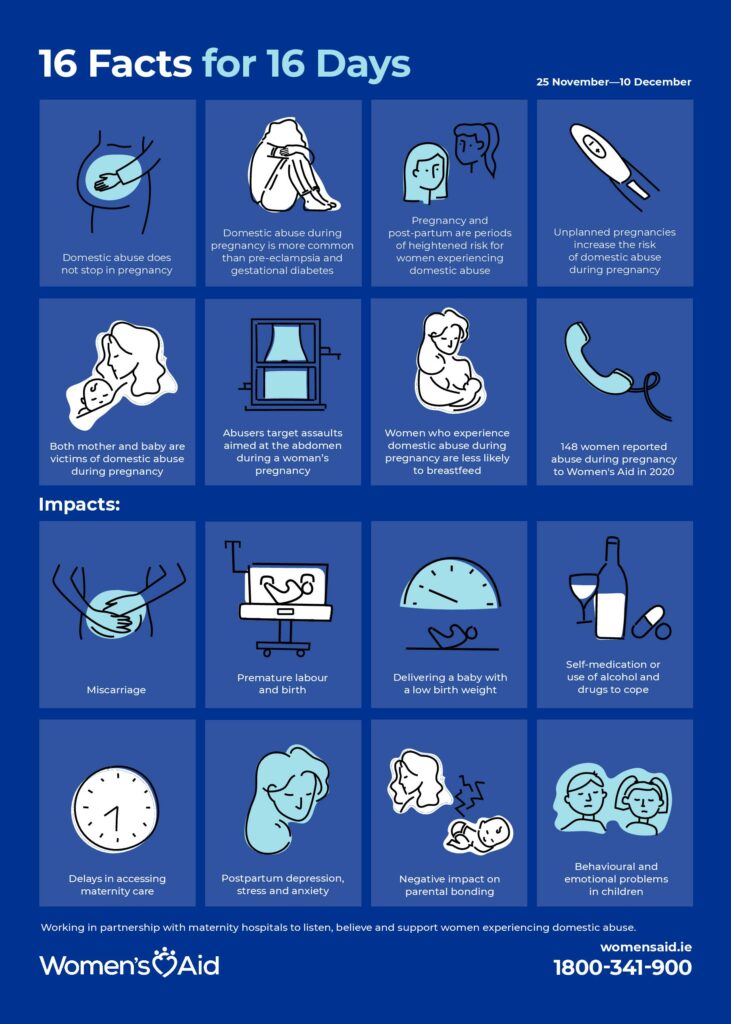 Women's Aid and four of Ireland's leading maternity hospitals are working together to support women subjected by domestic violence and abuse including coercive control with a three-year pilot programme.
For women experiencing domestic abuse, pregnancy can bring with it a heightened risk of abuse.
Global research shows that domestic abuse during pregnancy is more common than pre-eclampsia and gestational diabetes. (see note 1)
Abusers target assaults aimed at the abdomen. Therefore, domestic abuse during pregnancy can have very serious health impacts on mother and baby including risks of miscarriage, premature labour and birth and baby born with a low birth weight.
New awareness campaign on domestic abuse and pregnancy as part of the International 16 Days of Action.
10am, Tuesday 30th November 2021: Today, a new partnership will be launched between Women's Aid and the three Dublin Maternity hospitals (The Coombe, Rotunda and National Maternity Hospital) and Cork University Maternity Hospital. The three-year pilot project will enhance the maternity hospitals' response to domestic abuse through a jointly created training, awareness and referral programme. The project will be outlined at an online webinar for healthcare professionals working in maternity care across the country including midwives, nurses, social workers, obstetricians, and support staff, GPs and Public Health Nurses. The gathering will hear from leading Irish and UK researchers that domestic violence and abuse is more common than pre-eclampsia and gestational diabetes and has serious health impacts on the pregnant woman and her child including risks of miscarriage and baby born with a low birth weight. A new awareness campaign is currently underway in maternity hospitals and units across the country to highlight the common signs of abuse for patients and staff as well as encouraging victims to speak to hospital staff and also to contact the Women's Aid 24hr National Freephone Helpline and Instant Message Support Service.
Gillian Dennehy, the Women's Aid Maternity Project Coordinator says:
"It should be a time full of hope, but pregnancy can leave some women more vulnerable than ever. In 2020, 148 women told Women's Aid that they were abused while pregnant and 28 women suffered a miscarriage because of the abuse. However, we know that this is only the tip of the iceberg. One in four women in Ireland experience some form of domestic abuse and unfortunately, domestic abuse does not stop in pregnancy. Our partnership with four of Ireland's leading maternity hospitals will ultimately enhance the support for abused pregnant women who are accessing maternity services as well as women contacting Women's Aid for support. The enhanced response will also support staff who may be subjected to abuse."
The Rotunda Hospital spokesperson says:
"We are proud to partner with Women's Aid, and our colleagues in The Coombe, NMH and CUMH, on this vitally important project. Pregnancy can be a time of joy, but also a vulnerable time for women. Going forward The Rotunda want to continue empowering our staff and our patients to recognise the signs of abuse, so women have the opportunity to receive appropriate supports within the hospital and through Women's Aid"
Laura Harrington, Head Medical Social Worker,National Maternity Hospital says:
"The National Maternity Hospital welcomes this opportunity to work in partnership with Women's Aid to enhance the supports we offer to women experiencing domestic violence in pregnancy. Together we can work towards offering women and their children the support they need in a safe environment".
Tanya Franciosa Principal Medical Social Worker, the Coombe Women and Infants University Hospital says:
"As a hospital dedicated to women and infants, our priority at the Coombe is to offer an environment in which pregnant women feel safe and comfortable to disclose domestic abuse. As Medical Social Workers, we aim to provide women with the emotional and practical support that they need to ensure their safety and wellbeing and that of their children."
Ireland South Women & Infants Directorate spokesperson says:
"Ireland South Women & Infants Directorate are committed to listening, supporting and believing any woman who may be experiencing domestic violence. We are pleased to collaborate with Women's Aid on the Maternity project and hope it will raise awareness and responsiveness to the needs of pregnant women experiencing domestic violence at a local and national level".
The webinar and the 16 Days of Action campaign is the first of many joint initiatives as part of the collaborative project. Working together, the Women's Aid Maternity Project will draw attention to the issue of domestic abuse during pregnancy, highlight the signs of abuse among staff and patients and promote the support available for victims in Maternity hospitals and units and by Women's Aid.
Notes to the Editor/Producer:
Reference: Between 2 and 13.5% of women ever-pregnant, ever-partnered, have suffered intimate partner violence (IPV) during pregnancy. Intimate partner violence during pregnancy is more common than some maternal health conditions routinely screened for in antenatal care. This includes pre-eclampsia, which complicates 2–8% of pregnancies globally, and gestational diabetes, which has between 1–5% prevalence in the UK and USA. Reference: Devries KM, Kishor S, Johnson H, Stöckl H, Bacchus L, Garcia-Moreno C, et al. Intimate partner violence during pregnancy: prevalence data from 19 countries.Reproductive Health Matters, 2010, 18(36):1-13. Article reference
Webinar details: 10am to 11.30am, 30th November 2021: Pregnancy and Domestic Abuse – Prevalence, Impacts & Responses.  Speakers include: Sarah Benson, CEO of Women's Aid, will chair the event and present on the new Maternity Project with four of Ireland's leading maternity hospitals.  Dr. Lorna Jane O'Doherty, Associate Professor Institute for Health and Wellbeing Coventry University. Dr O'Doherty will present on Global perspectives on prevalence, impacts and intervention for domestic abuse during pregnancy.  Siobán 'O Brien Green, PhD, Trinity College Dublin, has worked in government agencies and the non-profit, research and academic sectors for over 20 years. Her presentation will be on 'Pregnancy & Domestic Violence: findings from recent Irish research'.  Gillian Dennehy, Maternity Project Co-ordinator, Women's Aid, will outline the Pregnancy and Domestic Violence public awareness campaign taking place during the International 16 Days of Action.  Register online.
Case study available here
10 Common Signs of Abuse during pregnancy – 10 Common Signs PDF
Information Poster for Staff – Information Poster
Information Leaflet for Staff – Leaflet PDF
Maternity and Domestic Abuse 16 Facts for 16 Days – 16 Facts PDF
In 2020, 29,717 contacts were made with Women's Aid's frontline services, during which 24,893 disclosures of domestic abuse against women including coercive control were made. Support workers also heard 5,948 disclosures of abuse against children. The reality is that thousands of women are being subjected to high levels of emotional, physical, sexual and economic abuse every day, at the hands of the person who is supposed to care for and respect them. These statistics represent a 43% increase in the numbers of women reaching out to Women's Aid for support during the Covid-19 pandemic.