Allianz Insurance and Women's Aid raise the alarm: Every 5 Minutes, a woman subjected to domestic abuse reaches out for help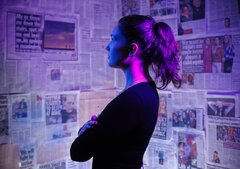 According to data provided by Women's Aid, a woman subjected to domestic abuse in Ireland reaches out for help every 5 minutes of every day
Domestic abuse takes many forms and affects 1 in 4 women in Ireland, regardless of their age or background
Wednesday 8th March 2023 – To mark this year's International Women's Day, Allianz Insurance and Women's Aid have launched "The Last Incident", a campaign that aims to raise the alarm about Ireland's rampant domestic abuse problem and serve as a stark reminder that a woman subjected to domestic abuse reaches out to them for help through their website every 5 minutes of every day, according to data provided by Women's Aid, from Oct-Dec 2022.
The campaign, launched on March 8, will feature a public tracker indicating the amount of hours since an abuse incident is reported, and will be placed in high-visibility strategic locations in Dublin. The chilling reality highlighted by the campaign is that the tracker will never rise above zero, because in Ireland domestic abuse happens all the time, every hour. Meanwhile, a dedicated online platform TheLastincident.ie will feature an online tracker showing real-time data on the minutes passed since someone reached out to Women's Aid for support through their website.
Sarah Benson, CEO Women's Aid said "With one in four women in Ireland being subjected to domestic abuse over their lifetime, and so many thousands of children suffering also, it is a sad reality that we cannot say there even is a minute that passes when abuse is not being perpetrated in our society and victims/survivors living in fear and under control. On a day designed to celebrate women and their achievements it is vital that we also highlight what holds women back and stifles their potential to thrive and achieve. We need to loudly call domestic abuse out as an unacceptable violation of human rights and a barrier to women's equality."
Ursula Murphy, Chief Transformation Officer Allianz Insurance said "At Allianz, through our three-year partnership with Women's Aid, we want to lift the veil surrounding domestic abuse by raising greater awareness of the societal issue and the shocking statistics surrounding it. While International Women's Day is a day of celebration, for those subjected to abuse there are no days off. We hope the strong message behind this campaign will encourage everyone to stop for a moment, think, and being the lifesaving conversations needed to move Ireland to a zero-tolerance society."
Data provided by Women's Aid covered incidents reported in from Oct-Dec 2022, through calls to the 24/7 National Freephone Helpline, instant messages to Women's Aid, face-to-face visits and contact through the Women's Aid websites.
Allianz Ireland has partnered with Women's Aid as part of their approach to sustainability and desire to make a positive impact on a societal issue in Ireland. Allianz is the no.1 insurance brand globally, we continue to be the world's most valuable insurance brand in the 2021 Best Global Brands ranking. We are also one of the largest insurers operating in more than 70 countries worldwide. We have been operating in Ireland for over 100 years now, with a team of over 600 people that look after over 500,000 customers. We have decades of experience and are extremely proud of our flexible products as well as a claims service built with the customer in mind. For more information, visit Allianz
Women's Aid is a leading national organisation working to prevent and address the impact of domestic violence and abuse. They do this by advocating, influencing, training, and campaigning for effective responses to reduce the scale and impacts of domestic abuse on women and children and providing high quality, specialised, integrated, support services.
Support Information – Women's Aid 24hr National Freephone Helpline 1800 341 900